The Penny Arcade guys have a great post today about the approaching Microsoft Store.  No shock that they find the funny in it, but I was particularily taken by this passage:
On the desktop, and this is unfortunate for them, the only way to make a truly discriminating choice is to purchase a competitor's product.
That is to say, going with Microsoft is not a choice for most shoppers, it is the absence of a choice.  Or, as they put it in the comic: "Isn't every store a Microsoft Store?"'
It is hard not to look at this effort by Microsoft as a slightly petulant swing at the success of the Apple Store.   The ultimate proof will be in what kind of store it turns out to be. The fear is that it will be a computer shop where the bulk of customer choice is between which version of Vista or Windows 7 will provide them the "best experience".  Like a tiny Best Buy, without the overpriced DVDs.
Even with things which work really well, like the X-Box (which boasts a fantastic online experience and store), how do you translate that into a worthwhile shopping experience?
I'm not optimistic about this effort. I intellectually hold out hope that the guys at Microsoft are smart enough to keep this from being every bad thing one might expect , but I don't feel it. All the ways to make this smart and workable are too small for Microsoft as a whole.  Maybe the store folks will be given enough leeway to prove me wrong. Maybe.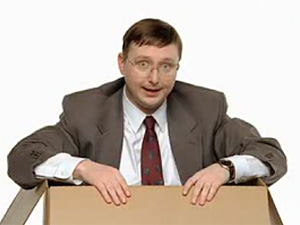 But all this got me wondering if there was a way to make a Microsoft store any good, and I realized there was.
The paradox that Microsoft will need to overcome is that they have too few choices among their products, and too many choices among all the things that surround them (hardware and software). For a store to be successful, they don't need to concentrate on creating more choices among their products, they need to find a way to give me fewer choices among other products.  That means they need to either look at hardware or software.  Hardware's kind of a dead end – competing with Dell is eating their own lunch, and cooperating with them is just redundant.  Software, however, is rich with potential.
If you use Macs, you will sometimes hear Windows users talk about the sheer breadth of software available for the PC, and how that's a point against Macs.  Mac users laugh this one off because they know the secret – less software means that what there is tends to be better. There are two big  reasons for this. First, most Mac Software has a degree of passion behind it: programmers only develop for the mac because they want to, and that sets a natural bar.   Second, and perhaps more importantly, there are fewer options, so finding the good ones is easier.
Microsoft fans may be experiencing a knee jerk now at the assertion that Mac software is better than Windows, and that is clearly Very Wrong Indeed, so let me explain the contrast.  There is a lot more software available for Windows than there is for the Mac, and that has a profound impact on the quality of the user experience. Assume the quality of product is exactly the same, and the distribution of quality is roughly equal, finding a really good piece of software –  the kind you get excited about, something like Scrivener or Omnigraffle –  is like finding a needle in a haystack. The trick is that the Mac haystack is much, much smaller.   More is not necessarily better in this case – even if the Mac software is generally better, there will still be more good windows software just out of pure volume, but you can go nuts trying to find it.
The other factor of quality is that the most exciting Mac software comes from smaller companies. The position of Adobe Creative Suite and Microsoft Office are pretty well cemented in the universe, and the really interesting stuff comes from people who aren't trying for a piece of that pie, and instead are looking to fill some other niche. These are the companies who make the most exciting stuff, but they are the hardest to differentiate from the noise around them in the PC world.
This is where a Microsoft store could really shine. Rather than offering me the same software I can find at Best Buy,  Micro Center, Frys, Staples or Amazon, why not offer me the best software out there?  Why not offer the kind of software that is so good and useful that windows users can be smug rather than apologetic? For those companies and individuals putting out electronic product, use some of that Microsoft muscle to help them put physical media on the shelves. Be picky as hell, limit shelf space to only those programs that create enthusiasm, and suddenly there's something to buy.
That's a store I'd shop at.
(And for the naysayers – that software really is out there. The fact that you haven't seen it is mostly just an illustration of the underlying problem. )